Going it alone may not be the best thing to do when running an online business. Your prospects are all around you and even when a relationship doesn't directly translate into money, it doesn't mean that it's not helpful and or rewarding in many other ways.
According to Pat Flynn
"When I think back to all of the most noteworthy moments of my online business career – from my first digital product sale back in 2008, to my first feature article on a top-blogger's website in 2009, my first speaking gig in 2011, to the launch of my best-selling book on Amazon – beyond the hard work and the patience I had to have, they all have one major thing in common:
For every milestone, I can pinpoint one or more people who played a critical role in the outcome. Without those people, those events may never have happened."
(See
How to Grow Your Blog Audience By Building Relationships With Other Bloggers – The Ultimate Guide)
When connecting with other bloggers your platform of finding customers expands.
Going to events and meeting people is one form of outreach. People will trust someone whom they have seen face to face or talked, than someone who just mails them every other day.

It isn't easy to connect and cookie cutter methods are no good when building real relationships. Just put yourself in the other person's sneakers and try to feel what he would feel when sent another generic boring email. An email that doesn't appear personal, approaches them with the same laziness that dozens of other marketers have used is bound to get trashed.
Everyone wants that others pay attention to them. Instead you send PR pitches, which may make them throw up.
Let's see how we can solve this problem.
Where to find influencers in your niche to reach out to?
BuzzSumo is a good tool that you can use for outreach. It can help find influential people in a niche. Simply search with the keyword in the influencer search option to find the influencers. BuzzSumo also has options to find the contact info of these influencers.
Followerwonk, is yet another tool for finding influencers. Just use the 'Search Twitter Bios' feature and then filter by social authority.
You can also use Stumbleupon to find influencers. In this case let's go for SEO.
There's an interests section in Stumbleupon that you can use for this. It has two advantages. One it gives you a ready list of trending topics and secondly it introduces you to the top SEO blogs in the industry.
Just go to http://www.stumbleupon.com/interest/seo. You can also replace SEO with any other keyword and find influencers in that niche.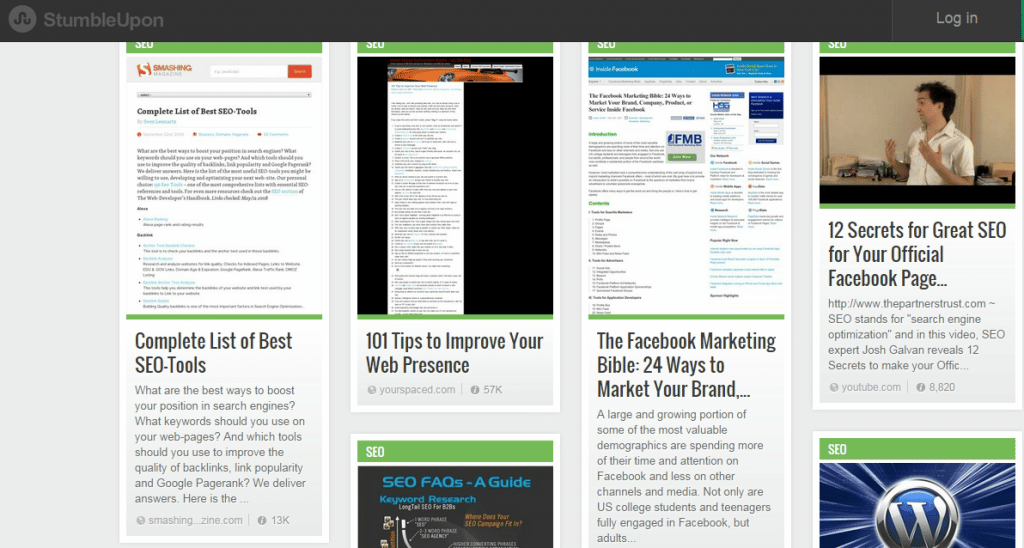 Inbound is another platform you can target to find out influencers in your niche. Just go to the members section here http://inbound.org/members.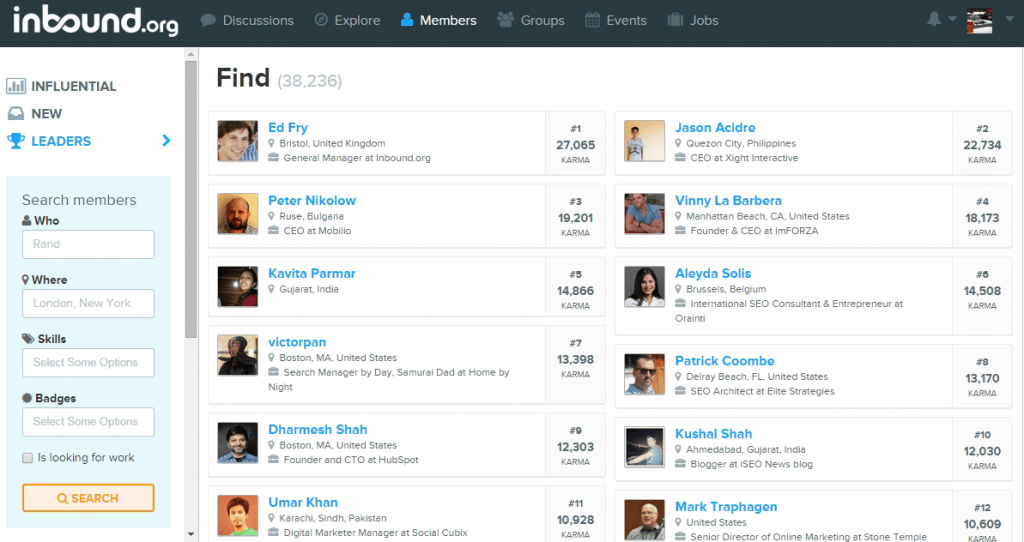 Matt Barby's tutorial on Scraping Online Communities for your Outreach Campaigns can be helpful in making sense of Inbound.
How to approach bloggers and email them to get a response?
1. Get to know who consists the blogger's audience:  Study about the blogger's audience. Find out what they are interested in, find out which posts get the maximum number of comments and shares. This would help you create content that is helpful for them and in turn be benefited yourself.
2. Engage with the blogger first:  No one would like a person who barges in and starts listing their demands. You want your product reviewed, you need to guest blog— wait, find out what he/she needs. Start with an email, email them first about their good posts. Share their posts and comment on them. Engage with them on Twitter and Facebook. Let them know that you are there and then look for ways to send in your request.
3. Get in touch with someone in their circle: This is something I learnt from the founder of WpCurve Dan Norris. He said that while analyzing job applications, the number one thing that makes an application stand out is if it was forwarded from someone he trusts or knows.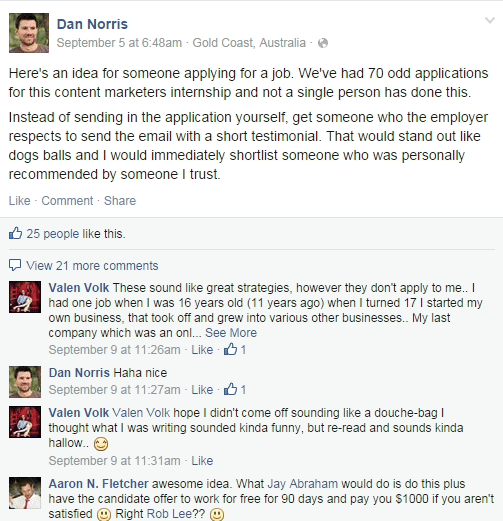 Humans are social beings. This analogy applies to even the most high-profile bloggers out there.
4. Have a good product: It's much easier to market a product if it's good. If you do not have a good product, you will be met with more rejections and it will be hard to get reviews or land guest posts.
 5. Start commenting on their blogs: Commenting on their blogs is a good strategy to get noticed. Most bloggers approve their comments manually and it's true for top-notch sites like CrazyEgg too. You have a good chance of standing out by commenting regularly.
6. Don't rest until you get a No :  It's possible that a blogger doesn't respond to your mails. So follow up with them in a week's time. In case you still don't get a reply leave them alone.
But if you do get a reply and things are getting cold from the other end persist. Send emails after a gap of 3-4 days as friendly reminders.
I have got many positive results using this method alone.
 7. Send a proper email: Avoid semantic breaks in the email like when two words merge together without any spaces between them.
Proof read to ensure that the names are correct and there are no typos. Get rid of those mistakes before you send the mails.
8. Focus on Quality:  What goes wrong most times during outreach is that people start focusing on quantity. They reach out to hundreds of bloggers or in other cases thousands. That's not the right way to do it.
Think of it this way. You send out the same generic crappy pitch to 300 bloggers. How many respond, may be 2 or 3.
Now imagine doing your research and finding 56 people who are right for the blog. You spend time on reaching out, crafting emails that stand out and running an editor's eye through them.
These emails get read and people do whatever it is that you want them to do.
At the very least I expect that 10 people respond. Isn't it a better investment than sending out 300 mails that get trashed anyway?
9. Send them a free trial: Why should someone spend time on your product if you don't have the courtesy to even send out a free trial. Most of these bloggers have an audience which trusts them and to write about a product which they haven't used will be the last thing on their mind.
10. Getting your hands on undelivered emails: When you are sending out too many emails it's easy to miss if some do not get delivered. If you ignore them, you are ditching an opportunity. So, find out if there's another way to reach out to them.
In this case and this alone you can comment on the blog asking the blogger to mail you. Yes, I advise this since you are reporting a bug.
11. Track down email addresses: There's a nifty little free site where you can key in any site and find their contact info if it's publicly listed. The site is who.is. If you aren't getting a response on the email address listed or if the contact form isn't in the best of moods this is the best thing you can do.
Most times you also get their phone number which is another good way to build an acquaintance.
You can also use Rapportive to assist you in the search of names.
12.  Don't comment to remind them:  Let me share something that happened to me when I was starting out. There was a blogger and he was running a contest. One of the rules was to email him after I have submitted the entry.
I not only emailed him 2 times, I also commented on several of his posts that I had emailed him.
What I got next was this.

13. Approach the blogger with his/her name: Nothing is more dispassionate than an outreach email addressing the prospect as Dear Sir/Madam. If you cannot even bother to find the name of the person then how do you expect him/her to respond to you? Almost every week I get one or two guest posting pitches and none of these guys can bother to find my name out.
Result? Trashed.
What are the other platforms that you can use for this?
There are a couple of platforms that you can use for finding out the top blogs that are accepting guest posts in your niche.
These same blog owners may be approached for product reviews and link placements too.
CopyforByline: It's a platform developed by CopyPress which is an avenue for bloggers to showcase their skill with words. Bloggers can choose any topic they want. With an ever-growing community of webmasters, small business owners and bloggers you will never feel alone.
You can write about what you love and publishers from across the world wide web would see your content and if good publish it on their own sites with a byline.
Guest Blog It is a platform that connects both writers and blog owners. If you would like to publish guest posts on some high authority blogs then this is the way to go.
Here's my list of 500+ blogs that you can guest blog on. There are lots of categories that you can choose from and I am sure you will find something to your liking.
Concluding thoughts!
Blogger outreach is an art in itself. It tests your patience, is long and hard but the results are rewarding.
Do let us know in the comments if you have tried reaching out to bloggers and the end results.